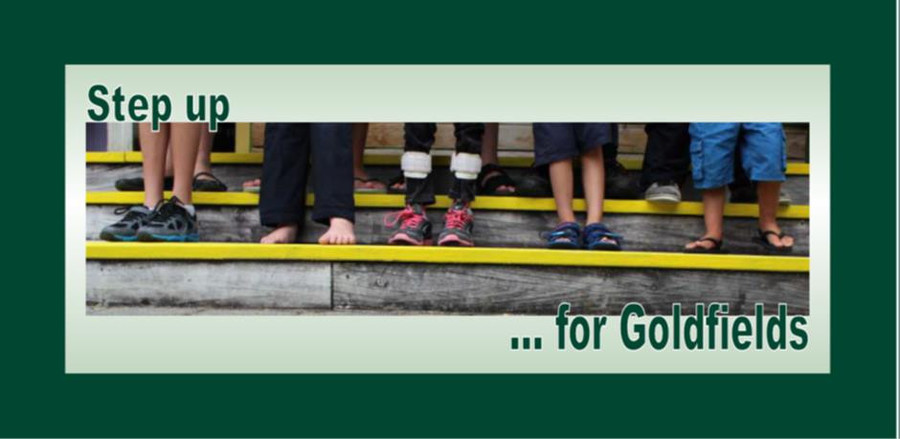 Our Base school is undergoing redevelopment with new classrooms, a hall and sensory communication rooms being built. This is very exciting and the fruition of many years hard negotiation with Ministry. However, we have only basic ground works money in the funds we have received from Ministry, ie grass seed and concrete.
Last year we launched our 'Step up for Goldfields Appeal' and after much hard work, we ended the year with $100,000:00 in our Donations Account. This is just enough to properly surface our outside areas. Now we need to raise the rest of our target, a mere $150,000:00, in order to purchase and install the equipment we have identified that is necessary for our students Sensory Integration and Social Development.
Our outside spaces are not just open spaces and a playground but areas which need to meet the very special physical, emotional, learning and therapeutic needs of our students. Here at Goldfields our outside spaces are integral to the teaching, learning and therapeutic programmes that every student requires. They are essential areas and we need your help.
All and any donations are most welcome and our account information is below. Some people or companies may wish to 'buy a brick' which will be used to make a Wall of Supporters to commemorate this appeal and our new grounds. A number of individuals and companies have already shown their support this way.
Thank you for your kind consideration of this request and your interest in our students and school.
Gary Quarless
Tumuaki : Principal
How to sponsor or donate:
Buy a brick or tile:
Tiles – up to 42 letters, in three lines of up to 16 letters
Bricks – up to 28 letters, in two lines
Sponsorship rates for this are as follows:
Platinum (Tile) : $1,000:00 or over
Gold (Brick) : $750:00
Silver (Brick) : $500:00
Bronze (Brick) : $250:00
If you are a company in Waikato, our families/whanau are very likely to be: your employees; colleagues; customers; friends; and/or relations - help us and you help their children.
He mahitahi … working together, we can make this happen
Payments may be made:
Directly on line into our school secure Donations Account. No funds may be withdrawn from this account electronically. All transfers out or withdrawals must be made in the branch office by two named persons appointed by Goldfields School Board of Trustees, so it is very secure.
Account details: GOLDFIELDS SCHOOL- DONATION ACCOUNT
BNZ: 02 0396 0006598 00
Or
By sending a cheque made payable to "Goldfields School" along with your details.
Or
By requesting an invoice. This will be sent to you directly by our School Administration Manager.
Please reference all donations or requests: Step Up or Appeal

Thank you again for your kind consideration of this

Email: office@gfs.school.nz Tel: 07 862 7172 Website: www.gfs.school.nz
Mailing Address: School Appeal, Goldfields School, Norwood Road, Paeroa 3600