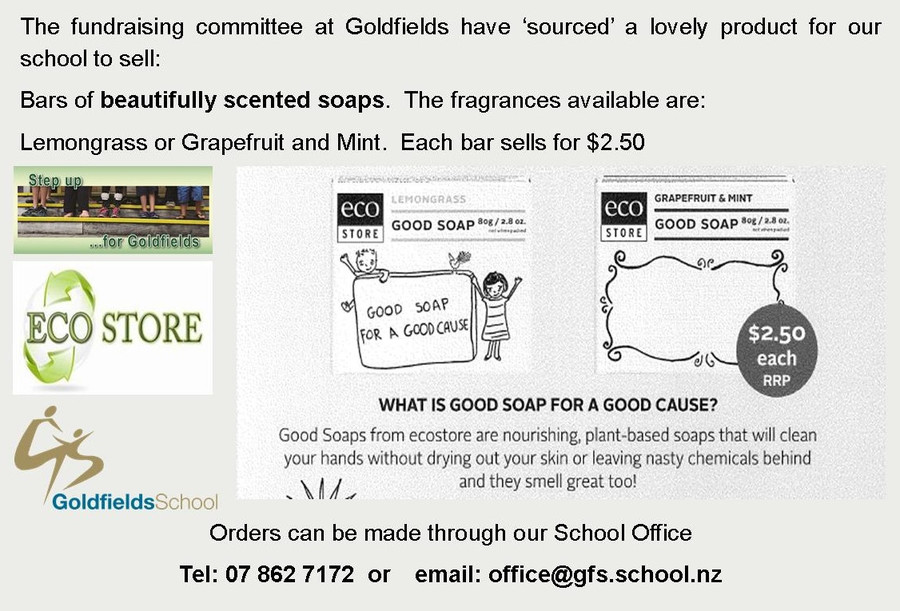 "Soaptastic"
A great range of environmentally friendly and organic soaps are now available to you through our school. ECO Soaps are very well known and we are delighted to offer two sensational fragrances for our wonderful school community to enjoy: Lemongrass and Grapefruit & Mint.
These sensational soaps are yours for the bargain price of $2:50 and all profits will go to our Step up for Goldfields Appeal.
Ordering is simple:
Email the school office at: office@gfs.school.nz
State how many blocks of soap and what type you want
If you are able to pop in to school to collect them great. If you are a parent or caregiver we will send them home with your son/daughter. There will be a basic addition of postage if you want us to post them to you, so make sure to include your mailing address with your order.
Then, our wonderful office team will send out your order the very next day along with an invoice - easy online payment is available. .... so it is easy as!
Four simple steps to a sweeter smelling you! How can you resist?
orders to: office@gfs.school.nz or telephone: 07 862 7172